Home
About US
FRAGOFF formed in 2012 to fight development on the green belt, initially it involved a group of residents living around the Farmers field between Alt Rd, Liverpool Rd and Formby bypass. Soon people further away started to take an interest as developers snapped up more land in Formby, Maghull and Aintree. Since then FRAGOFF has fought against Sefton's Local Plan and spoke up at the public inquiry representing residents concerns about infrastructure, loss of protected habitat, traffic congestion and flooding and drainage, all likely to suffer under the strain of new development. Most recently members of FRAGOFF fought along side residents at Andrews Lane as they tried to defeat a development on farmland near Hoggs Hill Lane Railway Crossing. Residents in the upcoming battles will benefit greatly from the lessons learned in their struggle and we extend our thanks.
Application in for Bracken Way, and expected soon for Liverpool Rd
Developers have submitted an outline planning application for Bracken Way, and residents around Liverpool Rd have recieved letters from Turley Associates as a prelude to submitting a planning application. Very Soon there will be a FRAGOFF leaflet dropping through your door. We realise that not everyone is computer 'savvy' and we want to reach as many people as possible to keep them informed. If you could help deliver leaflets please let us know email This email address is being protected from spambots. You need JavaScript enabled to view it.
Look our for our Latest Leaflet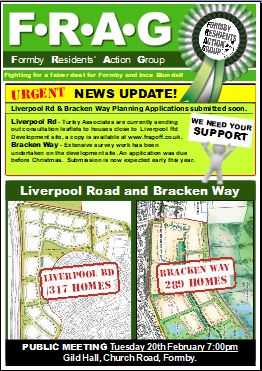 It should be noted that this leaflet went to print just before the Bracken Way application was submitted. However more information on Bracken Way and Liverpool Rd can be found on our new Planning Applications page. A FRAG Public Meeting will be held at the Gild Hall, Church Road, Formby. See our Upcoming events for more details. Click on the leaflet opposite to download our own copy.
Land at Altcar Lane
Residents who have recieved notification about this application please note that the offical consultation response date has been extended until 21st of February, this is because Sefton have to allow for 21 days after notification of the application has been placed in the press. We have had confirmation that this will happen in Wednesday January 31st Formby Champion. For more information click here.
FRAG Submit Beefed up Fracking Motion.
Formby Resident Action Group Councillors Maria Bennett and Bob McCann table tougher Fracking motion with help from Independent Coucillors in Lydiate and Maghull. In a move to back Frack Free Formby as they present their petition to Sefton Council, Maria will table a new motion designed to toughen up an earlier Sefton Labour motion tabled when the national Labour Party still supported Fracking under the right circumstances?!
We would remind Labour Coucillors that Labour's 2017 Manifiesto promised to ban fracking, so hopefully they will be joining FRAG councillors in supporting the motion when the full Council meets on Thursday 25th of January. For more details of when and where see Upcoming events.