Home
About US
FRAGOFF formed in 2012 to fight development on the green belt, initially it involved a group of residents living around the Farmers field between Alt Rd, Liverpool Rd and Formby bypass. Soon people further away started to take an interest as developers snapped up more land in Formby, Maghull and Aintree. Since then FRAGOFF has fought against Sefton's Local Plan and spoke up at the public inquiry representing residents concerns about infrastructure, loss of protected habitat, traffic congestion and flooding and drainage, all likely to suffer under the strain of new development. Most recently members of FRAGOFF fought along side residents at Andrews Lane as they tried to defeat a development on farmland near Hoggs Hill Lane Railway Crossing. Residents in the upcoming battles will benefit greatly from the lessons learned in their struggle and we extend our thanks.
Look our for our Latest Leaflet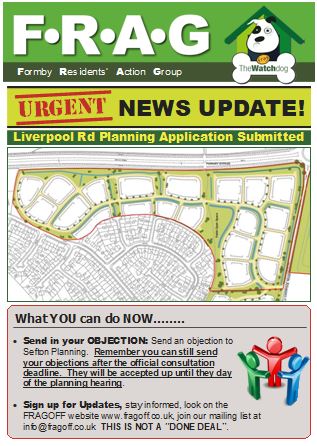 The Planning application on for Liverpool Rd has been resubmitted, and the consultation has begun. The official closing date for Objections is currently the 25th of July, however there has been no notification in the press or on lamposts so this is likely to be extended and we will be seeking clarification.
Leaflets are currently going through doors please keep an eye out for our flyer or you can download on here. Click on the leaflet opposite to download our own copy.
St Lukes Church Rd Formby.
Did you know that FRAG members on the Parish Council and in the Sefton Council are fighting for access along St Lukes Church Road Formby. This stretch of Rd would successfully claimed as a byway open to all traffic by Formby Civic Society in 1998. However the order was never eneacted by Council Officers in a shocking dereliction of duty! Formby Parish Council have submitted a claim to the Rd however Sefton Council are currently seeking private agreements with land owners to reduce the level of access to this right of way. Watch this space!
FRAG Submit Beefed up Fracking Motion.
Formby Resident Action Group Councillors Maria Bennett and Bob McCann table tougher Fracking motion with help from Independent Coucillors in Lydiate and Maghull. In a move to back Frack Free Formby as they present their petition to Sefton Council, Maria will table a new motion designed to toughen up an earlier Sefton Labour motion tabled when the national Labour Party still supported Fracking under the right circumstances?!
We would remind Labour Coucillors that Labour's 2017 Manifiesto promised to ban fracking, so hopefully they will be joining FRAG councillors in supporting the motion when the full Council meets on Thursday 25th of January.